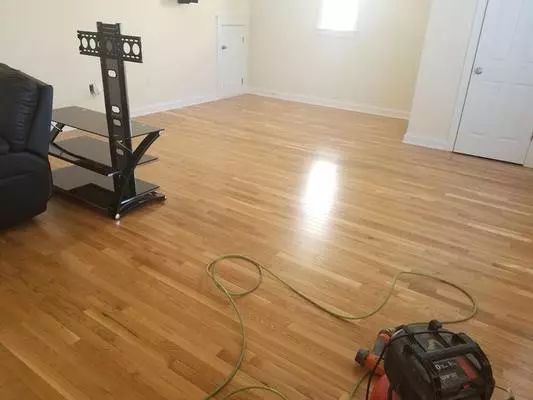 Let Us Expertly Install Your Engineered Hardwood Floors in the
Charlotte NC

Area

Click here to schedule a free no obligation appointment.
There are several advantages to choosing engineered hardwood floors:
Stability: Engineered hardwood is designed to reduce the natural movement of wood, making it less prone to expansion and contraction with changes in temperature and humidity. This stability makes it particularly suitable for areas where moisture levels can vary, such as basements or over concrete slabs.
Versatility: Engineered floors can be installed in ways that solid hardwood cannot, such as on top of concrete or radiant heating systems.
Sustainability: Some types of engineered hardwood use less slow-growing hardwoods like oak, which can be more environmentally friendly.
Wide Range of Options: Engineered hardwood is available in a wide range of wood species, colors, finishes, and plank widths. Some engineered floors are also available with a hand-scraped or distressed surface that can give the flooring a unique look.
Cost-effective: While the cost can range depending on the quality and type of wood, engineered hardwood is often less expensive than solid hardwood.
While unfinished hardwood floors come with many advantages, there are also a few potential disadvantages to consider:
No Refinishing: Unlike solid hardwood, most engineered hardwood cannot be sanded and refinished multiple times due to the thin layer of hardwood on top.
Varying Quality: The quality of engineered hardwood can vary widely. Lower quality options may have a very thin top layer of hardwood, which could wear through over time, revealing the less attractive layers underneath.
Potential for Damage: While engineered hardwood is more resistant to moisture and temperature changes compared to solid hardwood, it can still be damaged by standing water and extreme humidity changes. Prolonged exposure to water can cause warping or delamination.
Lifespan: Engineered hardwood floors typically don't last as long as solid hardwood floors. While a solid hardwood floor can last for a century or more, engineered hardwood usually lasts between 20-30 years.
Cost: While engineered hardwood can be less expensive than solid hardwood, high-quality engineered options can be just as, if not more, costly.
Resale Value: While high-quality engineered hardwood can increase the value of a home, it may not be as highly valued as solid hardwood flooring in some markets.